* A quiet place to do many things .. ????
Ok, so It's been a while since my last creative post. Having returned home from my travels, I was super exhausted, but my mind had hit the ground running ..
I needed space to recover, be in the moment with family and reorganise my world via the Japanese system of #KonMari ..
Besides, every so often we need to catch ourselves from moving too fast and letting the habitual hustle, stresses and strains pile up and in some cases totally consume us. So, remembering to take some time to focus on the present, and our #wellbeing should be the norm right?!
Even whilst travelling I needed to have a break, and whilst staying in the #UNESCO World Heritage town of #Takayama it meant so much to slow down and explore everything at a different pace.

Meditation = Mind
With temporary lodgings inside the beautiful 宿坊 善光寺 (Zenkoji temple) on simple cosy tatami mats surrounded by detailed artwork and sacred scriptures together with a great view of the Japanese garden, its was simply picturesque. At Sunrise we headed into the main hall for #yoga and #Za-Zen with a monk. Za-Zen is a form of mindfulness mediation aimed to clear stress and improve concentration.
Did you know that Mindfulness is a key element in Japanese archery?
Later that evening we discovered a 弓道 (Kyudo) Japanese archery school was open and tried to put this into practice for ourselves. Needless to say It's a lot harder than we anticipated, but we had so much fun anyway, and we convinced the owner to show us "in true fashion" how it's actually done.
'You only get one shot in your life, and you might as well push yourself and try things.'

Jason Statham ????
Onsen = Body
These natural hot springs relax, eases aches and pains, whilst leaving you refreshed with incredibly silky smooth skin ..
.. Not to mention the strict dress code .. Yes you've guest it - no swimwear allowed! But to be honest, its actually the norm in may spas all over the world, especially in Europe!
Also to note, Japanese culture still has a bit of a stigma with tattoos. But don't worry there's plenty of ink friendly spas, gyms and pools around. We discovered this lovely local spot named ゆうとぴあ稲荷湯 (Spa House Yutopia) where everyone was welcoming, the place was clean, nice and was a really great price.
Food = Soul
Early morning outdoor strolls along river may lead you to the the Miyagawa Morning Market where you can wander over fresh local farm produce. We found the best chocolate croissants at an Andersen Bakery - warm, golden, crips and fresh!
Later that day, having rambled around the town trying Saké at the 有限会社 原田酒造場 (Harada Brewery) and #Anpan (sweet buns in the shape of a cats face) and matcha powder as a garnish on ice cream, we stumbled upon 寿々や (Suzuya restaurant). There we tried the legendary #Hida beef, known for its well-marbled, incredibly richness, it literally melts on the tongue. We ordered ami-yaki and was brought mini charcoals for us to DYI grill our sliced beef and vegetables which was awesome.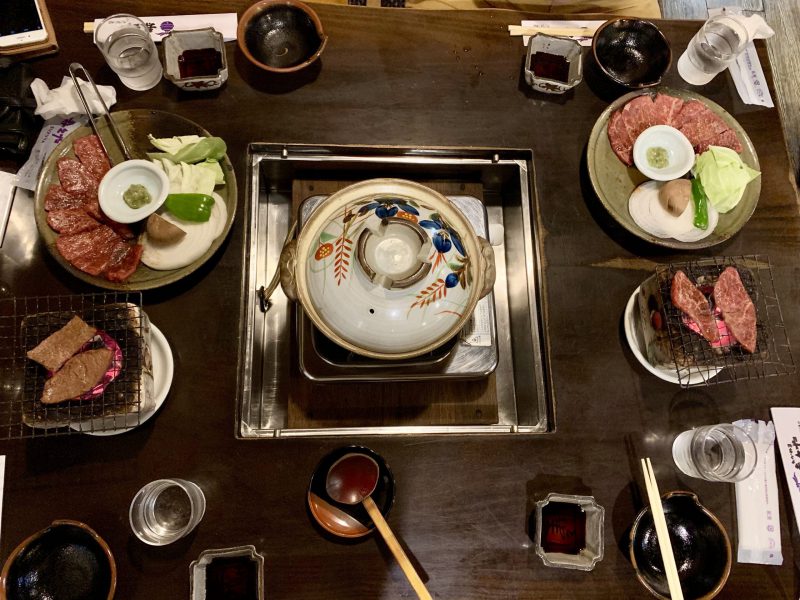 And if you're not a meat eater - there's plenty of vegetarian, vegan and gluten free options available.
The restaurant vibe was warm and welcoming, which enhanced the truly delicious experience!