One of my fondest memories was when I discovered a little gem of a waterfall on my trip to Bali. As you all know, exploring is something I love and when I read the itinerary of Bali, I was blown away by the world of stunning coral reefs and endless waterfalls. So, I decided to venture off on this experience of a lifetime and found paradise. You could say ironically that I was chasing waterfalls? ????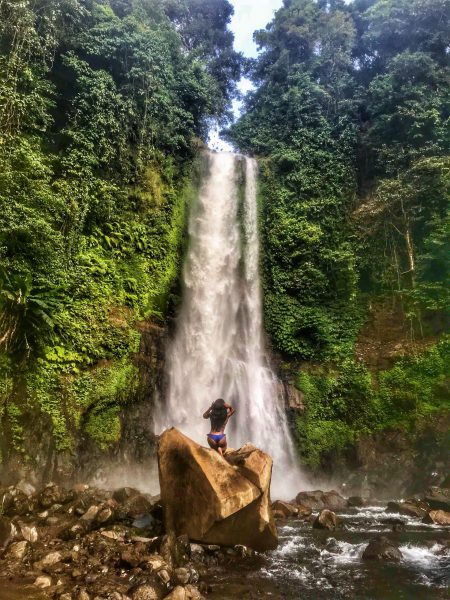 When I reached the Git Git Waterfall in Indonesia, I had already visited other waterfalls, but nothing could prepare me for what I was about to experience. Known as the most famous waterfall in Bali, the Git Git waterfall is locally referred to as "Air Terjun Gitgit". It's located in Gigit Village, Sukasada district, Buleleng regency, on a plateau, about 300 meters above sea level. It's 11km to the south from Singaraja city and because it is a tourist site, you have to pay an entrance fee which cost 20 000 Rupiah. When converting it to my local currency, it's equivalent to about 1 sterling pound which is very affordable! I was advised to venture off early to the falls, as it can become quite busy throughout the day and I followed the advice and arrived at the waterfall shortly after the struck of dawn. ????
The waterfall is located in an interesting location, surrounded by rice fields, coffee, and clove gardens, which you must pass by to reach the waterfall. It's around the village of Munduk in Bali and it takes about 20 minutes to reach the waterfall. Once I got a glimpse of the waterfall, I was in complete awe. ????
"I can see my rainbow calling me through the misty breeze of my waterfall"

– Jimi Hendrix
The waterfall has a steep 24 km drop that looks like it's flowing for thousands of miles and when I came face to face with the waterfall, a gentle breeze which carried along the stream, swept over me. I felt a sense of being one with nature, in complete serenity with the sound of the stream ever-so comforting. The waterfall, located in the foothills, is so majestic and beautiful and I wanted to spend the entire day in such a beautiful and serene setting. People usually spend a few hours here, having a little picnic and capturing their surroundings. There are also a few local markets located from the waterfall, with locals selling hand-crafted goods. Git Git Waterfall is a peaceful paradise, so, if you want some quiet, intimate time to immerse yourself with mother nature, this is the place for you.????