By my side - Literally!
On numerous occasions, this subtle object on many of my adventures has been my essential tool for survival. So this review has been a long time coming, and I'm glad it's now finally out there!
So let me set the scene.
It was a sunny serendipitous summer afternoon of June 2017 at Chestertons Polo in the Park, in the Hurlingham Park, London. I was browsing the various unique stalls that were aligned side-by-side around the park and amongst the artworks, trinkets and other delicacies, I discovered the Rufus Country stall.
Fabian and Maria's warm personalities and passion for the brand caught my interest in the various hand-finished goods they had on display. I was instantly drawn to their Hazel Saddle Bag and wanted to try it out on the spot. They happily handed it to me to try on in front of their full-length mirror, and was lead on the bag's journey and as a family run business, they value simplicity, uniqueness, quality, and great people.
The detailed craftsmanship and distinct scent of quality leather charmed me, noticing the smooth texture, embossed Rufous Hornero bird logo, multiple zip compartments and carabiner-style clip inside for keys, wallets, etc.
This practical yet elegantly designed object matched my quirky effervescent lifestyle. And as great friendships blossom, this bag has become part of my life, travelling with me all over the world.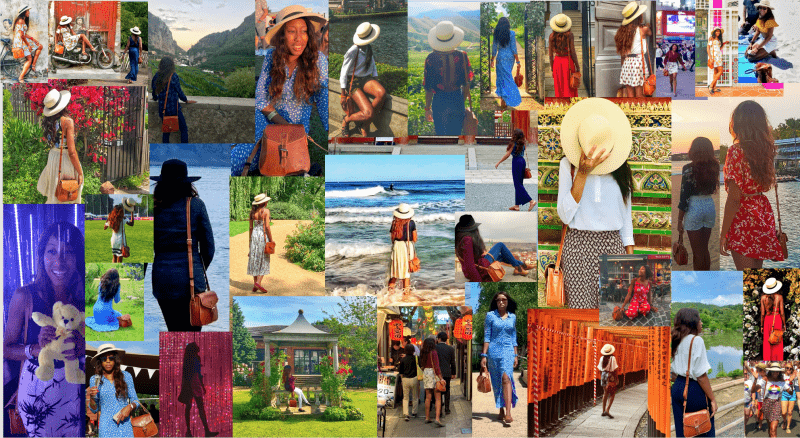 Remarkably staying strong, whilst beautifully building its character, venturing around the United Kingdom, across Europe, to the southern hemisphere, exposed to the intense weather and harsher terrains of Australia and New Zealand.
Not to mention enduring the diverse climates around Asia. From the Thailand water festivals, Malaysian high humidity, Singaporean summer storms, easygoing vibes of Indonesian life and the spontaneous escapes around Japan. Still to this day, I receive compliments in person and online, noting it's remarkable character yet elegant design.
Well, like it's native source, its robust, beautiful and timeless, so this excellent investment that will stand the test of time. And that's why I'll continue to use it!
Now you know where to get yours! ????