When I stayed in Bali for the first time, I remember wanting to get the full Bali experience, so visiting the surfing beaches, rice paddies, marine life, scenic waterfalls, local communities, animal sanctuaries and paying homage to the spiritual experience by embarking on many temple excursions. But, knowing the limited time I had to explore, and being peak tourist season, there were tough decisions made on which temples to visit when there are hundreds of them to choose from. Luckily, when visiting this beautiful Hindu Shaivite Shiva temple on the shores of Lake Bratan, we pretty much had the place to ourselves which was amazing! ????
Known as one of the most beautiful temples in Bali, Pura Ulun Danu Bratan is situated on this lake, surrounded by mountains, the idyllic settings were one of my highlights on my trip. And being less crown than other temples, it's an extraordinary temple that is perfectly surrounded by the most beautiful view of the mountaintops. We had travelled all the way to Munduk to catch a glimpse of this temple and venturing off before sunrise meant that I got to witness the sunrise across the majestic lake. Seeing this temple in all its glory brought about a sense of calm and direction.
"You are never lost when you can see the temple" ????

– Gary E Stevenson
As with most tourist sites, you can expect to pay a small entrance fee which cost about 50 000 Rupiah per person. While this is more expensive than what you can expect to pay for the entry to the best waterfalls in Bali, in my opinion, it was worth every penny (far less than a western coffee).
TIP: You can keep up to date with the LIVE currency rates at XE.com and whilst on the move via the XE Currency app.
So, because this place is not as popular as the other temples, you might be wondering: how do I get there? It's located in a town called Bedugul which is about one and a half hours north of Ubud. We found that the easiest way to visit Pura Ulun Danu Bratan Temple is to stay in Munduk or Bedugul. From here, it will take you roughly 35 minutes to reach the temple and the easiest way to get there is by scooter or taxi. It's also important to arrive early because the weather can become extremely cloudy and overcast during the afternoon. So, be sure to catch the early taxi and arrive just before sunrise to experience Pura Ulun Danu Bratan Temple in all of its glory. ????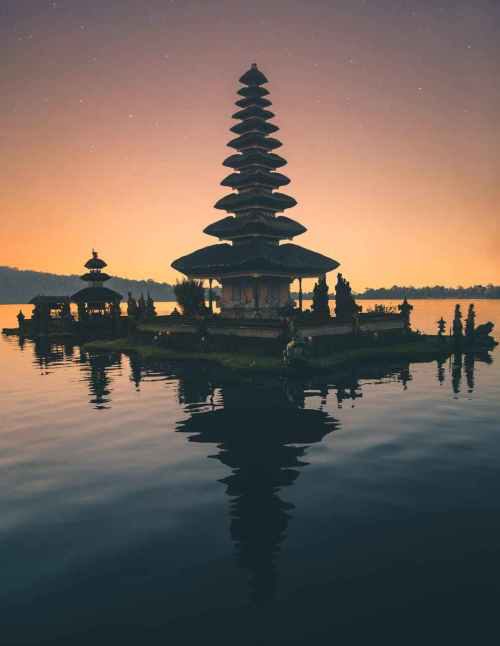 An interesting fact I learnt when I visited the temple is that in Bali, Hindu temples are known as "Pura" and are designed as open-air places of worship in walled compounds. While most visitors choose to explore the temple by foot, there is also the option to rent a little swan paddle boat or indulge in some lakeside fishing on the outskirts of the lake which is popular among the locals. The temple is open from as early as 7 am until 6 pm so if you are travelling from Ubud, you can make the long drive worth your while and spend the day exploring the temple, engaging in activities by the lake or simply have a relaxing and meditative afternoon at one of the most underrated beautiful and spiritual places in Bali. ????