????What are the best dishes you ever tasted? ????
Whenever I travel and explore all parts of the world, I don't just fall in love with places and people; I also fall in love with the food. I'm so thankful to have the opportunity to taste unique cuisines and invite my taste buds to a new world of flavour. This time of year primarily reminds me of festivity and the locations where I've spent many holidays in a completely different setting, surrounded by new culture, traditions and people. The main thing that would bring me a sense of comfort since being away from home was food. Yes, so naturally, I indulged in LOTS of comfort food. When I reflect on my memories, a few fond moments comes to mind.
The first is from when I was living in Sydney, Australia. I visited an Italian tavern-style restaurant and indulged in one of my all-time favourite dishes. ????????
So, allow me to introduce you to one of the best Italian dishes I ever tasted and so far remains my all-time favourite dish, the infamous spaghetti! ????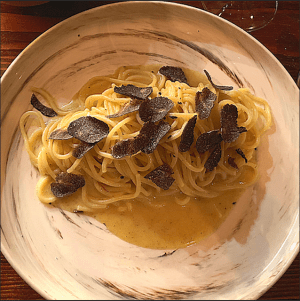 During my time in Sydney, I was pleasantly surprised to be served some of the best Italian dishes I have ever tasted. And there was one dish in totally I fell in love with. Yes, this visually delicious spaghetti with fresh black truffle shavings was so rich, light and creamy, and I most definitely took my time consuming every inch of this dish. ????
After savouring all the unique flavours, enveloped in a creamy layer of sauce, I felt like I was back in Italy. The taste brought an experience along with it, and at that moment, I felt like I could eat that dish every day for that three weeks!
"There's nothing more romantic than Italian food."

- Elisha Cuthbert
If I were to go back to Sydney again, I could guarantee you'll find me hidden away from clear sight in this cosy restaurant, enjoying a bowl of nostalgia with a glass of wine to pair, a real home away from home experience. ????
Location: Pino's Vino e Cucina – Reservations available every Tuesday to Sunday from 17:30 – 23:30 Australian Eastern Time (AEST/ AEDT) ????